About Matchbets Sportsbook 
Matchbets has immensely grown to claim a spot among the best sportsbook of 2022, barely 3 years after its launch. The success can be attributed to the policy of transferring house advantages to the bettors. At Matchbets, players can bet against other players for a 2% commission referred to as juice. The juice enables wagers to save up to 8% of their wagering funds. Players are also allowed to bet against the house if they wish.
Matchbets was established by Mark Krause in 2019 and it is co-owned by Information Service Limited and ESGS Processing Service LImited. The sportsbook is regulated and licensed by the gambling authority of the Curacao government.
The sportsbook has an age policy that only allows players aged over 18 years to participate in promoting responsible gambling. Its helpline is 1800936725 or 08000886725 for anyone dealing with gambling addiction.
Matchbets Bonuses and Promotion 
Matchbets is very competitive and offers several promotions to attract new customers. These bonuses are so appealing that many customers sign up on Matchbets on a daily basis. Here are the bonuses being offered at Matchbets.
Sign-up bonus
Matchbets rewards every new player a 100% bonus of up to $500 after signing up at the sportsbook. Although the reward sounds great, it comes with a rollover requirement of 20 times. That means you cannot withdraw your reward until you risk the reward 20 times, as mentioned above. However, every bet contributes to the rollover requirement, whether you win or lose. The current promo code for this bonus is MATCH.
Welcome Bonus 
They also have another welcome bonus for all new players after making their first deposit. The new player is rewarded with 25% for depositing through PayPal. The reward also comes with a 20 times rollover requirement.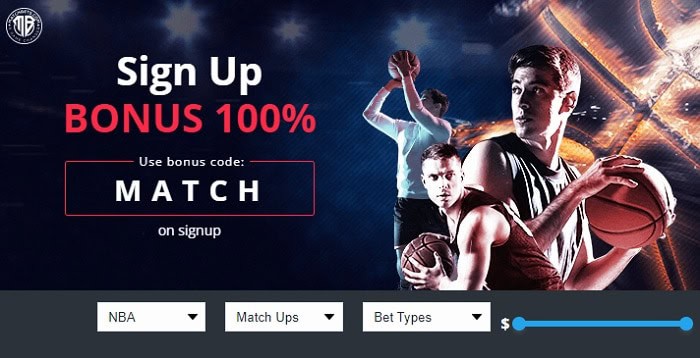 Crypto Bonus 
Matchbets has a welcome bonus for new players who fund their accounts with cryptocurrency. In this case, new platers are required to fund their account with cryptocurrency worth $25 to get $75 in return. The rollover requirement is still 20 times for this offer.
Referal Bonus
The fourth type of bonus offered by Matchbets is a referral promotion. When your referral makes a deposit and places a bet, you will receive a $50 extra bonus that is subjected to 20 times rollover requirements. However, the referred friend must create a Matchbets account and bet for you to receive this reward.
Matchbets Payment Methods
Matchbets uses secure payment methods to safeguard their customer's personal information from fraudsters and scammers who might use the details for malicious activities. In this case, the sportsbook uses PayPal and cryptocurrency as payment methods. PayPal is available in most countries and uses SSL encryption protocol to safeguard its customer's information. On the other hand, cryptocurrency payments run on a blockchain network which is the most secure payment method because it keeps your personal information safe and anonymous.
How to Sign-up for Matchbets
The signup process is easy and straightforward.
Go to the Matchbets website or mobile app and click the 'join now' option to get the welcome bonus.
Enter all personal information required. This includes your email address, phone number, country, and preferred username. Remember to put the promo code to claim the bonus and press continue.
Put your first name and date of birth. The date of birth is important to verify if you are above 18 years.
Verify the information you have given and press okay. You can start betting once your account is up and running.
Matchbets Betslips and Odds
Matchbets has an incredibly user-friendly interface. It ensures that even a new player can navigate with ease. The sportsbook has over 35 sports for customers to choose from. They include cricket, rugby, tennis, MMA, NHL, soccer, MLB, and NBA. Note that you can bet directly from the website or download the Matchbets mobile app.
Matchbets has various sports betting options. They include;
Moneyline Bets – This involves staking on a winning team or if the game will end in a draw.
Under or Over – It's a combination of results between two teams in the same match. You bet on whether the scores will fall under or over the total number of scores.
Future – Bettors stake on an upcoming season.
Parlays – Here you wager on several games for a big win but if you lose one stake you lose everything.
Other available betting options include; handicap, teaser, outright, and live betting.
Per Acquisition (CPA) and revenue share of up to 45% of the total revenue.
Pros and Cons 
Matchbets is a trendsetter in the gaming industry. The sportsbook has many pros but also some drawbacks.
Pros
Accepts cryptocurrency including Bitcoin and Ethereum.
Matchbets has plenty of bonuses – From the signup bonus to referral bonuses, the sportsbook has ensured it entices players looking for a new gambling experience.
24/7 live chat feature – This is the perfect way to engage with players all day. You can ask a question and get an answer immediately.
The affiliate program is an added revenue-generating venture.
Mobile friendly – Very efficient because most gamers bet from their mobile devices.
Cons
Limited payment methods – Although PayPal and cryptocurrencies are the best payment options, not everyone is conversant with them. Making them the only optional methods can lock out potential customers.
Matchbets does not have a toll-free customer support number.
Matchbets Bookie FAQ 
Is it safe to play at Matchbets?
Matchbets ensures your data is safe and secure. The sportsbook has a valid license from the government of Curacao and uses the latest technology to secure your banking information. This includes SSL encryption protocol and blockchain technology.
Does Matchbets have an age limit?
Yes. Matchbets allows only players who are above 18 years to access its services.
Does Matchbets have a mobile app?
Yes. You can download it from the sportsbook website.
What bonuses does Matchbets have?
Matchbets have various bonuses including welcome bonus, sign up bonus, referral bonus, and cryptocurrency bonus.
What is the current Matchbets promo code?
The current promo code for Matchbets is MATCH. However, it's always important to confirm the promo code because it changes from time to time.
What language options are available at Matchbets?
Matchbets features 4 languages; English, French, Spanish, and German.
Does the website offer casino games? 
Unfortunately, casino games are not available on this website. However, we heard that they are going to add a casino game section soon. If you really want to play the Best USA Online Casinos, check here.